OH MY GOD, IT'S FRIDAY.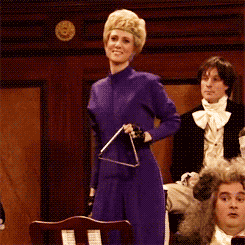 That's right, today deserves a happy dance. Let the power of the 140 character quip whisk you away to the land of no stress, no early mornings–just the simple pleasure that is the end of the work week. HOORAY!
Mary Magdalene was the original "adding a woman to the line-up."

— Cameron Esposito (@cameronesposito) March 25, 2016
A little Easter themed tweet to start the weekend off right.
when you hear ppl talking about you but they don't know you're there feels like an action movie except you're walking toward the fiery wreck — Aparna Nancherla (@aparnapkin) March 25, 2016
Yes. And Liam Neeson is nowhere around. 
Nothing thirstier than a line of Zone 2s.

— Megan Gailey (@megangailey) March 25, 2016
If you're a frequent flyer, this tweet is made for you.
Nothing displeases me more than when a friend gets into a serious plane crash after I've specifically told them to have a safe flight. — AlexaMac Brandes (@TheWoodenslurpy) September 21, 2015
Ugh, very passive aggressive of them.
YOU
YOU
YOU
OUGHTA KNOW pic.twitter.com/6lRaarfoxj

— Anne T. Donahue (@annetdonahue) March 25, 2016
L – O – L.
What if the Ted Cruz sex tape is just a copy of Zodiac? — Anne T. Donahue (@annetdonahue) March 25, 2016
*Pulls collar* *Tap dances out of the room* *Sweats profusely*
Forget the silent treatment. I give people the speaking treatment because that's a much more painful punishment I can inflict.

— Abby Heugel (@AbbyHasIssues) March 25, 2016
Speaking treatment > silent treatment. Always. 
sometimes instead of looking in a mirror I just look at my bitmojis and I'm like yup good to go this superman cape looks truly amazing on me — Chelsea Nachman (@chelseanachman) March 25, 2016
It's kind of like the 2016 version of Cher's outfit generator in Clueless. 
the speed in which I get home from work, take off my pants, and get into bed is my proudest achievement.

— Molly (@meinfante) March 24, 2016
YOU DO YOU, GIRL.
The only time honesty isn't the best policy is when explaining what happened to your iPhone to an Apple employee at the Genius Bar. — Jenny Johnson (@JennyJohnsonHi5) March 25, 2016
The worst part is they definitely know we're lying too. Some geniuses they are. 
Stopped myself from commenting something snarky on an Instagram, hours later still regretting it.

— Marcy Jarreau (@MarcyLane) March 25, 2016
#Live #In #The #Moment.
I'VE GOT A PIMPLE RESTING ONE LAYER BENEATH MY SKIN THAT COVERS THE SURFACE AREA OF MY FACE WHO WANTS A THINKPIECE ON IT — jamie loftus (@hamburgerphone) March 25, 2016
Do you think the age of the think piece will ever end?
will i ever love anything as much as i love vanderpump rules pic.twitter.com/VZkTxteK7P

— #BrittanySpanos (@ohheybrittany) March 25, 2016
Nope, probably not. 
I think I'm about to fuck DiGiorno. pic.twitter.com/MnM0XYj3ff — Allie Goertz (@AllieGoertz) March 25, 2016
Listen, we're all familiar with DiGiorno's smooth moves. 
I just licked my dog's head and I don't regret it

— Allegra Ringo (@allegraringo) March 25, 2016
Why would anyone ever regret that?
"Oh my god, this is so clean!" – my mother, arriving at my apartment, lying — Chloe Angyal (@ChloeAngyal) March 25, 2016
We can see the calculating moves behind her eyes, planning ways to sneakily clean.
one day I won't care so much about being universally loved 24/7 and maybe my life will be easier

— farwz (@farwzaz) March 25, 2016
Sure, maybe. But isn't it so much more fun having crippling anxiety and self-doubt?!
MEDIA: "We can't believe Trump would tweet something so awful!!!" WOMEN OF THE INTERNET: *scrolls through mentions* "We can" — Kate Spencer (@katespencer) March 24, 2016
Our fingers are about to fall off from how fiercely we're snapping. 
trying to hit zayn's high notes like pic.twitter.com/3ES6m6rNzc — Anne T. Donahue (@annetdonahue) March 25, 2016
Get it, Ted!
Autofilling my search is the Google version of mansplaining — Megan Amram (@meganamram) March 25, 2016
The patriarchy of technology, if you really think about it.
Sometimes I feel like a Marvel character in a DC world.

— Mrs.Throbinson (@mellimelle) June 23, 2014
The eternal struggle.